Faculty Founders Pitch Curated NewCo Propositions to Focused Investors
March 6, 2023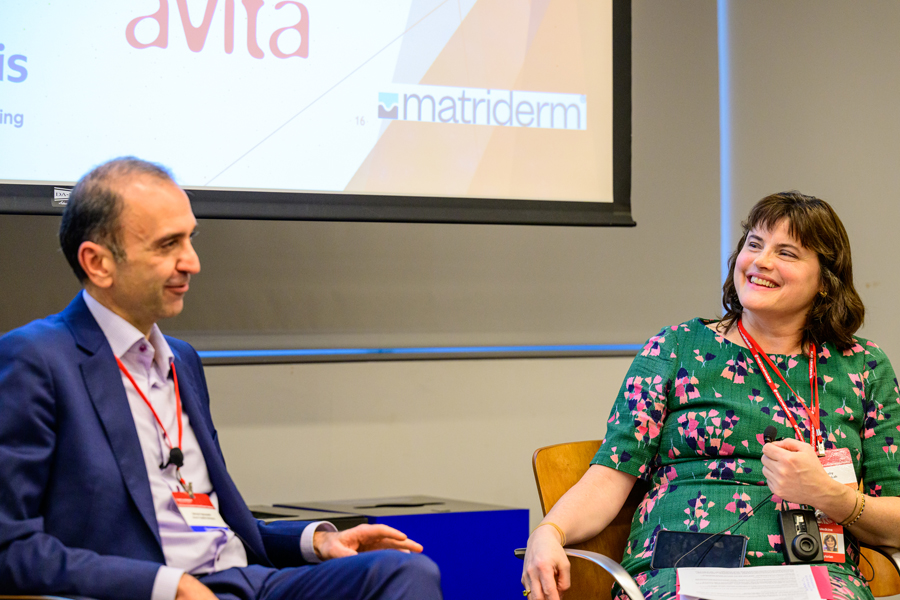 Dr. Behzad Aghazadeh's professional ambition carried him to different continents, scientific disciplines and career focuses. But the one constant for the Weill Cornell Medicine alumnus has been a commitment to entrepreneurship.
Dr. Aghazadeh, who earned a doctorate in 2000 from the Weill Cornell Graduate School of Medical Sciences, did not find fulfillment as a bench scientist and instead was determined to find his calling at the intersection of science and business.  After completing his doctorate, he turned to health care management consulting, where he worked on projects involving big pharmaceutical companies, small biotech, diagnostics companies and the U.S. Food and Drug Administration. Later in his career, his knowledge and experience landed him a research analyst role at a Wall Street mutual fund. In the years since, he's been investing in and managing biotech companies which have taken drugs from late-stage clinical trials through FDA approval.
"As the business world has become more competitive, having the science aspect alone is no longer sufficient," said Dr. Aghazadeh, who is founder and managing partner at Avoro Capital Advisors, a hedge fund based in New York City. "Science now is like speaking English. It's a language. It allows people to communicate, but it hardly makes people better. Now it's a question of how we apply that language."
Dr. Aghazadeh spoke about his experiences in entrepreneurship during the BioVenture eLab's annual Startup Symposium & InvestConnect Conference on Feb. 23 in Weill Cornell Medicine's Belfer Research Building. In addition to the fireside chat with Dr. Aghazadeh, this year's event offered a panel discussion by entrepreneurs-in-residence (EiRs) on how they facilitate startup formation for scientific and clinician founders. The program also highlighted clinician-led startup Fesarius Therapeutics, Inc., formed by Dr. Jason Spector, which is working toward FDA approval of its DermiSphere™ tissue regeneration product. More than 175 people onsite and virtually attended the conference.
"Conceived as a small-scale JP Morgan Healthcare Conference, InvestConnect achieved its goal of introducing scientists and clinicians with curated and aspirational NewCos to leading venture capital investors," said Larry Schlossman, managing director of the Office of BioPharma Alliances and Research Collaborations and creator of the event. "Importantly, the conference positions Weill Cornell Medicine at the forefront of biomedical innovation and entrepreneurship in the New York City academic ecosystem."
Cornell alumna Beth Xie, MBA '10, moderated the discussion with three EiRs who have knowledge in biomedicine and experience spinning out companies from research labs. The panelists stressed the role of EiRs as a bridge or connector between the academic investigators and investors in the entrepreneurial ecosystem.  
Current EiR Dr. Ehsan Yazdi, CEO of NomoCan Pharmaceuticals, views his work as a good ecosystem networker who helps investigators de-risk their assets through deep due diligence to prevent them from wasting time and money raised on a failed product. To accomplish this, he asks investigators why, when and how their scientific discovery can translate into a commercial product with an eye on today's ever more competitive market. "That's what our role is for a product at that point: asking the hard question and doing that killer experiment first, enabling advancement of best discoveries into products that are investment-ready. That is one avenue of our contribution," Dr. Yazdi said. 
Dr. Aghazadeh advised Weill Cornell Medicine students in attendance to always surround themselves with people who were willing to support them and with whom they can foster open dialogue. He said he had to navigate his career path from science to entrepreneurship on his own; Weill Cornell Medicine today has the infrastructure that makes alternative career paths more accessible to students. Principal investigators, he said, don't realize they already possess the entrepreneurial skills when they raise money through grants, manage staff and produce results in their labs, albeit in a different venue.  
"I think people don't appreciate that the two paths are actually more similar than different," Dr. Aghazadeh said.
Prior to the conference, BioVenture eLab organized two virtual seminars on startup-related topics, including "Hiring a Scientific Team" and "Due Diligence on Investors for Founders." These pre-conference programs prepared Weill Cornell Medicine investigators and entrepreneurs for conversations with investors.
In addition to one-on-one investor meetings, the conference offered an opportunity for nascent founders to display posters in the Startup Showcase. Showcase participants included a cloud-based remote sleep monitoring and sleep apnea diagnostic algorithm; a digital health platform that provides free online health-related information to improve health literacy; a stomach-derived human insulin-secreting organoid for diabetes treatment; biodurable arteriovenous and biodegradable bypass grafts; a novel therapeutics for fatty liver diseases; and a brain-imaging product that measures and displays quantitative susceptibility mapping (QSM) to identify and display tissue magnetic susceptibility sources.
"The startup route is not for everyone, but for those with transformational discoveries that serve an unmet medical need in a large end-user market, the startup track can be highly rewarding," said Loren Busby, director of BioVenture eLab, which is a core component of Weill Cornell Medicine's Enterprise Innovation, "BioVenture eLab is eager to partner with faculty who wish to explore this mode of commercialization."