February 17, 2023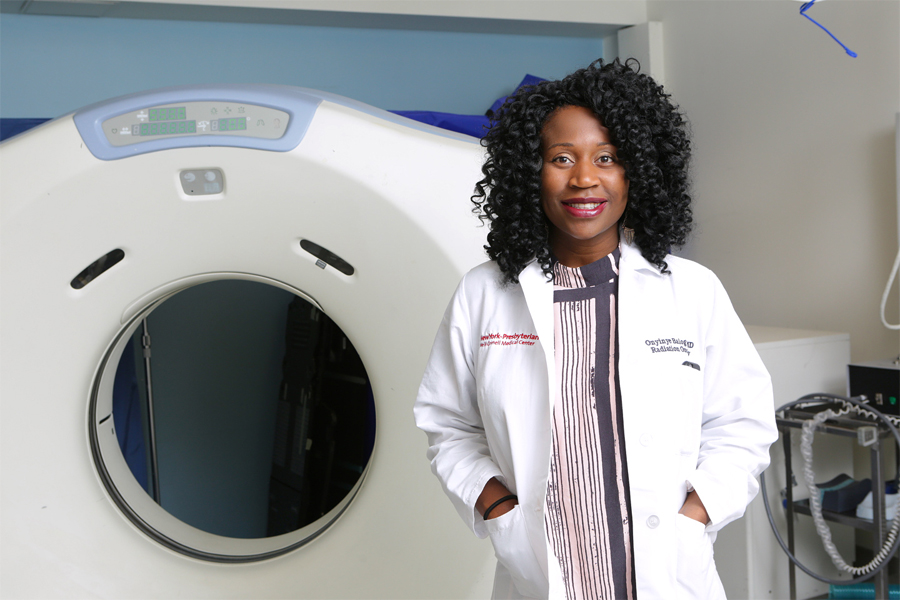 In recognition of Cervical Health Awareness Month, Enterprise Innovation spoke with radiation oncologist Dr. Onyinye Balogun about her efforts to improve women's health technology.  Dr. Balogun shared how an encounter with a cervical cancer patient inspired her to become an entrepreneur. 
You launched Mission Driven Tech with former patient Eve McDavid, with the goal to improve brachytherapy hardware and software solutions to treat cervical cancer in a more patient-centered way. In 2022, your project won $25,000 in pre-seed funding at Enterprise Innovation's BioVenture eLab Business Plan Challenge. Can you give us a brief background and an update on your startup? 
Mission Driven Tech is a Weill Cornell Medicine-backed venture that aims to improve gynecologic cancer care through the use of modern technology.
Over 600,000 women worldwide are diagnosed with cervical cancer each year, and over 300,000 will die from it. Those are horrific rates. You can't talk about a cure for cervical cancer without radiation therapy for patients who, for a variety of medical reasons, can't undergo surgery. For them, the treatment is radiation and chemotherapy. At the beginning, the treatment combines daily radiation given from the outside with weekly chemotherapy. After five weeks of that, we switch to radiation therapy being given internally about every other day for anywhere from three to five treatments.
Those internal treatments are called brachytherapy, and they are delivered using devices that were designed and approved in the 1970s, before women were involved in FDA device trials. Up to 25 percent of women will run away from those internal treatments because they are so painful. I've long wished we could do this better.
In January 2020, I met Eve McDavid, who had Stage two cervical cancer. She was in her 30s and about 34 weeks pregnant and couldn't undergo surgery. In the process of her treatment, she began asking me, 'Can we do this differently?' Eve's background is as a tech executive for Google, looking at technology and how we can apply it in other settings in order to improve processes and find solutions. I told Eve, 'First, let's focus on making sure that we've gotten you to remission, and then we can work on this project to improve internal radiation.' Once she hit remission, we hit the ground running.
We are designing a new device with the support of people like Donna [Rounds, a business development professional from CTL at Weill Cornell Medicine, who manages Dr. Balogun's technology portfolio]. We've been able to submit a provisional patent for "The Blossom," the name of our new device that provides a solution for painful radiation therapy treatments. We're bringing brachytherapy into the 21st century with this device, which may also decrease the risk of certain potential adverse side effects like vaginal lacerations and uterine perforation.
The other aspect of the work will be building a companion digital platform that will serve as an educational tool about cervical cancer. There are some cancers out there that you hear a lot about, like breast cancer. But cervical cancer has a kind of a taboo. It's looked at as though you were promiscuous. So, we don't talk about it as often, and there's a lack of information about the disease in general. We want to use this digital platform to increase awareness, to also educate people.
What challenges did you face while trying to develop your prototype and launch your startup?
I never went into medicine thinking I would try to invent a medical device or launch software for education and help people get through their treatments. I think a lot of times we limit ourselves to thinking the discovery that we will make will be a protein, or it's easier for us to think about drugs, right?
We are still in the process of developing the prototype. We have the provisional patent. We have ideas about what we'd like to see in a device. I think one of the hardest things has been the realization that we need an engineering lead and seeing where our blind spots are. Same with fundraising. We're talking to a lot of people, but we don't know what is going to pan out. Apparently, medical devices and Femtech [women's health technology] are not the most lucrative. But we love a challenge.
What advice will you give your colleagues who are considering founding their own company or turning their innovative idea into a device?
Have the humility to say, 'My expertise stops here, and we need to bring someone in.' I tell people, 'Just be open, be humble, know your limitations. It's okay. You're an expert in medicine. You're not an expert in business strategy. So don't be afraid to team up with someone.' And I think teaming up with Eve has been one of the best things I did because I don't think I would be able to do this alone. Make sure that you have the right partners or that you bring in the right people – people who share your values, your same work ethic.
The culture of entrepreneurship is that you introduce people to each other. It's a natural thing that you do in venture capital that, I think, we need to do more of in medicine and other fields. It [entrepreneurship] has opened so many avenues.
How did Enterprise Innovation and Weill Cornell Medicine help you along in your entrepreneurship journey? What are the most valuable resources to you?
It means a lot to have your own institution invest in you. And we're continuing a legacy of women's health at Weill Cornell Medicine that began with the creation of the PAP test. I have expertise in cancer. But with Mission Driven Tech, I was wading out into the world of entrepreneurship and venture capital. I was a fish out of water.
The BioVenture eLab was a great starting point. It is a small, intimate group of individuals who are just like you, all in the same boat. The eLab gave me a structured format through which I could start with these lectures and then go from there.
The eLab also assembled experts who have a lot of experience in health care ventures to mentor us. Lee von Kraus, our mentor, met with us regularly as we were trying to put together our [business] strategy. Of course, he looked at his network and saw who he could connect us with. Lee was just very supportive. And I could tell he was so proud of us when we won [the Business Plan Challenge funding]. After this, we got into the accelerator with Cornell Tech.
CTL put us in touch with some initial people to write the proposal for our provisional patent. I had no idea what that entailed. Donna helped walk us through it, such as telling us about the level of needed detail. CTL provides so much beyond just licensing. It also provides mentorship.
There was Yaron David, an entrepreneur-in-residence at the eLab. He took Eve and me under his wing and helped us with some illustrations for the provisional patent in addition to being a mentor. We also had Cornell eMBA students working with us and doing some research. Yaron helped keep them on track.
I think that's the beauty of our entrepreneurial ecosystem. I feel like things are integrated.
How do you envision your partnership with Enterprise Innovation in the next stage of your company's development?
Oh, I mean, they can't get rid of me. We're now in the next stage, which is pre-seed fundraising. We have the InvestConnect conference organized by the BioVenture eLab coming up. So, I think, you always find ways to support us, to create connections and create opportunities for us to put ourselves in front of other companies. That's one of the ways we're going to interface. And of course, in the future when we come up with our next invention, we'll engage as well.